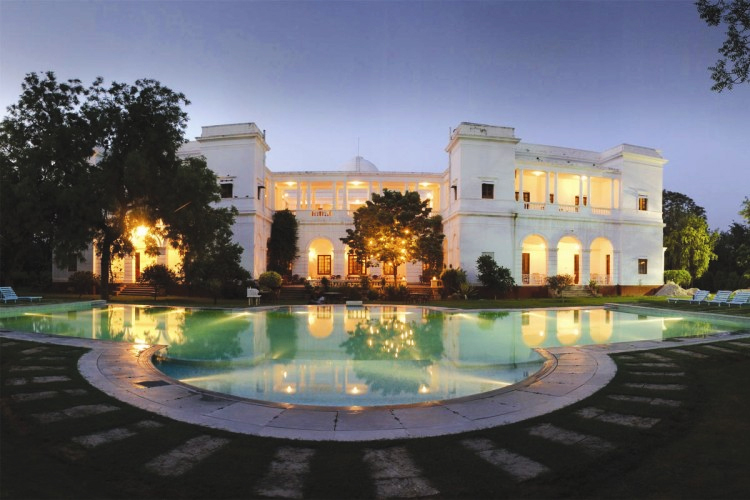 Another glorious heritage jewel in Neemrana gets a befitting makeover.
The Pataudi Palace in Neemrana, also known as Ibrahim Kothi has re-posessed by Saif Ali Khan from a private hospitality major that had run it as a luxury heritage hotel. The original palace of the Nawabs of Pataudi, sprawled across 10 acres, it had been designed on the lines of the colonial architecture of "Imperial India", and specifically that of those in the nation's capital.
Architect Robert Tor Russell – Chief Architect to the Public Works Department, who designed the imposing Teen Murthi Bhavan and the Connaught Place amongst innumerable buildings in Delhi, most with their signature Tuscan colonnades was the chief architect of the Pataudi palace, assisted by Karl Molt von Heinz. The Pataudi Palace too, boasts of the classic and graceful lines of colonial architecture, exuding an ambiance perfect for grandeur, power and romance. It is said that the existing palace was rebuilt on an older gothic version that existed by the English architecture team at the request of Nawab of Pataudi Iftikhar Ali Khan.
Now repossessed by the tenth and current Nawab of Pataudi, actor Saif Ali Khan from the luxury hospitality major, he has clearly conveyed that it will not be another hotel in Neemrana. According to the latest, Saif Ali Khan has made clear what he wants to do with this colonial marvel, "My mother (Sharmila Tagore) looked after it till dad gave it to the Neemranas. Darshini Shah, who did my home in Mumbai, is doing it up. She knows I'm looking for comfort and understated style rather than luxury and opulence. I'm excited about renovating the library, fixing up my grandmother's fireplace, turning the ceiling into a Zodiac night sky. There's something spiritual about the place now. My ancestors who'd gone away have returned."
Restored back to its colonial grandeur, we are sure it will be another highlight of Neemrana's heritage landmarks, worth a visit from travelers to Neemrana, and even stay in the history-soaked hotel in Neemrana.
Veer Zaara (2004) | Pataudi Palace immortalised in Bollywood