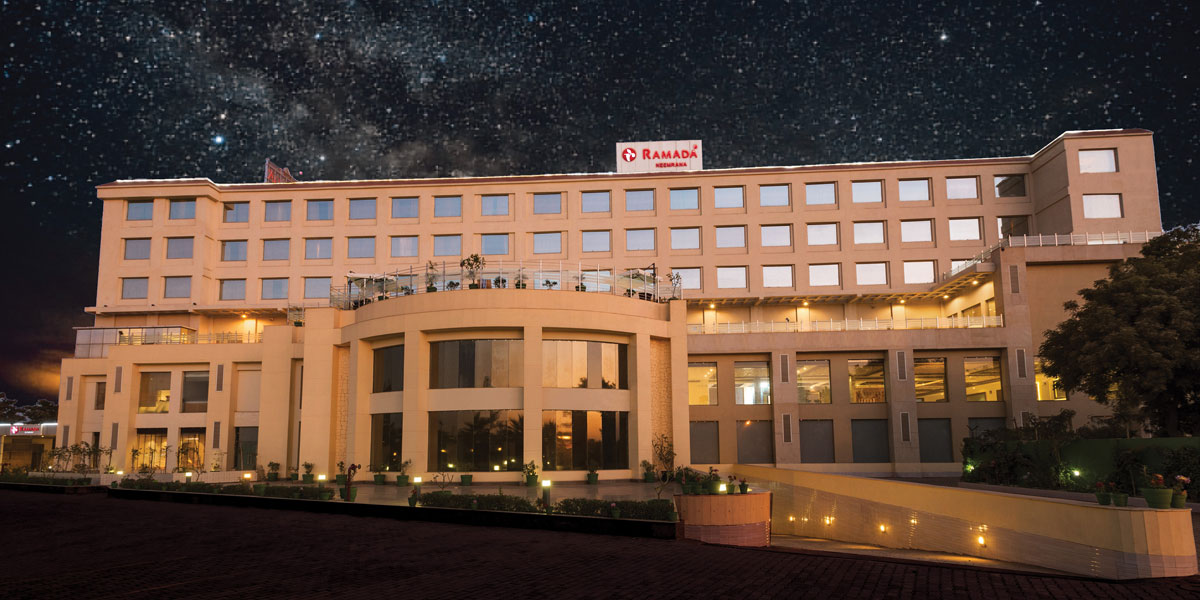 The Best Business Hotel in Neemrana
Set at the heart of a bustling business centre, on a prime location at the National Highway 8, Hotel Ramada by Wyndham is an international luxury hotel in business category at Neemrana. In close proximity to SEZ (Special Economic Zone), having large Japanese, Korean, German and many global and domestic corporates, our hotel at Neemrana, is well connected to Delhi/NCR and Jaipur.
Ranked among the top Business Hotels in Neemrana, the hotel is a perfect oasis hidden away from the hustle -bustle of the city life and is ideally enveloped in an elegant ambience. The hotel's exceptional services and indulgent amenities make it the most convenient and comfortable business-category luxury hotel in Neemrana.
Hotel Ramada by Wyndham, Neemrana is equipped with 102 well-designed, spacious and luxurious rooms- Premium, Deluxe, Suites, a Presidential Suite and a Differently-abled Room; all furnished to superlative hospitality standards that combine the best of luxury and space, and breathe artsy elegance and professional excellence in every detail to comfort the most discerning travelers; the best accommodation option with premium Rooms in Neemrana.

At Hotel Ramada by Wyndham, Neemrana-premium hotel in Neemrana- the best of Indian hospitality is delivered through exceptional services and exquisite dining experiences!
Curating extravagant gastronomical experiences for our patrons, we offer global-cuisine dining outlets such as:
Wabi Sabi
(12.00 pm – 3.00 pm, 6.00 pm – 10.30 pm)
A Pan-Asian Restaurant bringing you the flavours of East Asian culinary delights;
Ambrosia
(24×7)
An all-day Multi-cuisine restaurant in Neemrana serving the best of Indian, Italian, Continental and Gourmet cuisines from around the globe;
Amara Bar & Lounge
(11.00 am- 11.00 pm)
A new addition to the hotel, an eloquent Bar in Neemrana, serving a premium selection of exotic cocktails, international wines and fine liquors;
Poolside Cafe
(11.00 am- 11.00 pm)
Amara's extension to the poolside, serving classic drinks and snacks.
Royal Court
– Our signature banquet hall, designed to accommodate 250-400 guests, can be customised to host the most extravagant celebrations as well as the most elite Corporate Events in Neemrana.
King's Court – Our grand banquet hall, designed to accommodate 150 guests, ideal for elegant celebrations as well as corporate gatherings.
Queen's Court – The perfect setting for a close gathering of upto 80 guests, Queen's Court is the ideal banquet option when the celebrations are limited to close family and friends.
Sapphire Court– A spacious banquet area, strategically designed to host upto 800 guests and is the ideal choice to host both social and corporate events.
Sapphire Lawn– An extension of Sapphire Court to an open lawn space, this is among the best Wedding lawns near NCR that can accommodate upto 500 guests and is ideal to host pre-wedding events and celebrations.
Poolside – Located at the second level, the poolside is an open venue that accommodates upto 350 guests with scenic views of Aravali mountain ranges.
Cascade – Located at the second level, adjacent to the pool area, Cascade accommodates upto 80 guests and is ideal for private gatherings and meetings.
Conference Room – This conference space can accommodate upto 30 people and is equipped with the best state-of-the-art audio-visual systems to bring finesse to the meetings.
Board Room – Our distinguished board room seats up to 14 people and comes equipped with privacy as well as business essentials such as a portable multi-point video conferencing system.
Hotel Ramada by Wyndham, Neemrana is among the Best Hotels in Neemrana that is equipped with a full-fledged Spa & Jacuzzi, an Offuro/Onsen (Japanese Bath), a state-of-the-art Fitness Center, Swimming Pool and a Recreation Center with a Golf Simulator to keep the guests refreshed and rejuvenated, regardless of their stay being either work or leisure centric.

Enjoy Complimentary Wi-Fi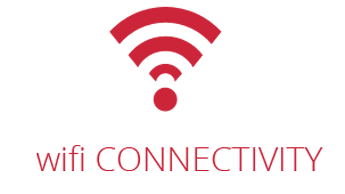 MAKE WORK PLEASURABLE DURING YOUR STAY WITH US
At Hotel Ramada by Wyndham, Neemrana, we ensure that you receive the best in terms of traditional hospitality and modern business. All our guests enjoy complimentary high-speed Wi-Fi access to ensure hassle-free work and leisure experience.
To access Wi-Fi while you are at Ramada Neemrana, please follow the following steps
OUR LOCATION
On the Delhi-Jaipur highway, the Ramada Neemrana is your best pit stop to refresh and rejuvenate enroute. Know More.

OUR FACILITIES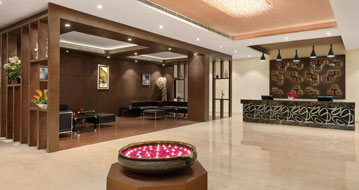 High speed Wi-Fi connectivity in Public Areas, Round-the-Clock Room Services, a Doctor-on-Call – we got them all covered. Know More.
OFFERS, DEALS & UPDATES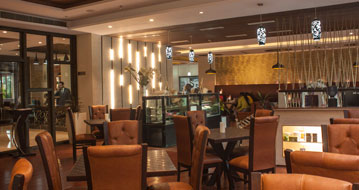 Keep yourself updated on the latest Offers, Deals on Rooms and Event Updates through our Neemrana Times Section. Know More.