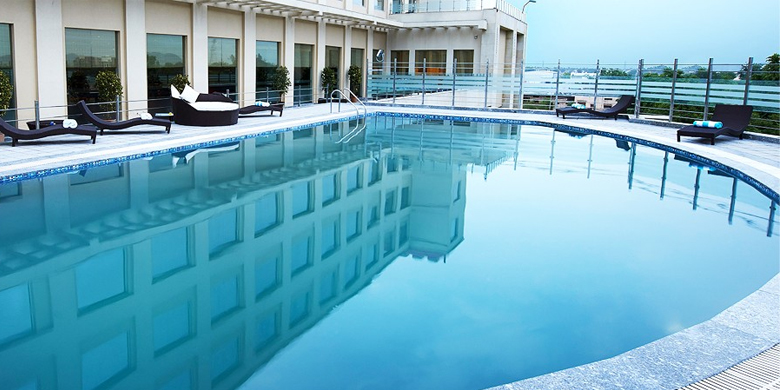 With New Delhi bearing the brunt of this year's torrid summer, ( touching 45.1 degree Celsius on Sunday, June 8th 2014, hovering at 47.8 degree C in and around Palam airport – making it the hottest day in 62 years ), and the monsoon playing peek-a-boo in our parts in August, here are 3 effective ways to cool you up, refresh and re-energise you, in short, your best New Delhi Weekend getaways ever.
1. A refreshing swim at the Ramada Neemrana Swimming Pool
Drive out of the city, take the Delhi – Jaipur Highway with your family on National Highway 8. We are a two-hour drive from the nation's capital. Step into the cool environs of the Ramada Neemrana, and the soothing comfort of our fantastic swimming pool for a brisk dip or a lazy, languid afternoon swim, the biggest and the "coolest" swimming pool you could find in any hotel in Neemrana. You can work up an appetite or just enjoy a relaxing float. May we go ahead and say that regardless of any time of the year, the Ramada Neemrana swimming pool stays one of the most effective rechargers for your weekly grind.
2. Indulge in a delicious spread of Japanese and Korean Cuisine
If the swimming has really worked up your appetite, may we recommend the Tokio restaurant at the hotel – the finest spread of authentic Japanese cuisine available in the National Capital Region.Each Japanese dish on the menu comes with a twist, prepared and presented with each ingredient freshly sourced. If not in the mood for Oriental cuisine, head over to Cascade – our 24-hour multi-cuisine restaurant and coffee shop rolled into one, to indulge yourself.
3. Soak in the history of Neemrana
An ancient historical town, Neemrana's 16th century hill-fort occupied by Chauhans, is considered to be the direct lineage of Prithviraj Chauhan. Kesroli lies close-by, another hill-fort which has mentions way back in the Matsya Janapada of the Mahabharata times, according to historians. Visit Kesroli one gets to see the oldest remains of Buddhist Vihara at Viratnagar where the Pandavas spent the last year of their exile incognito; Pandupole, with the only reclining statue of Hanuman; the samadhi of the ruler saint Bhartrihari . After a day's visit, get back to the comforting environs of Ramada Neemrana.
So what are you waiting for this weekend ? Delhi Weekend getaways just got closer and convenient, and is just a drive away.